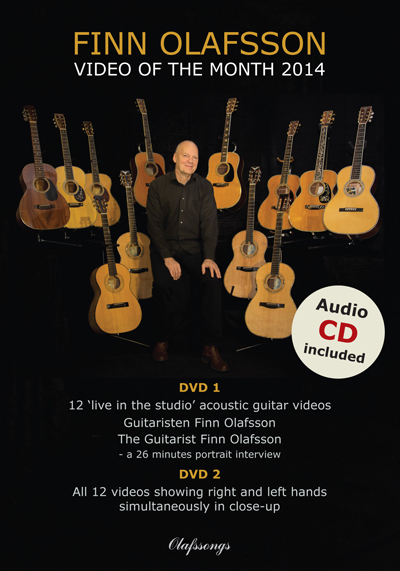 ---
Olafssongs
ODBDVD 003 • 2015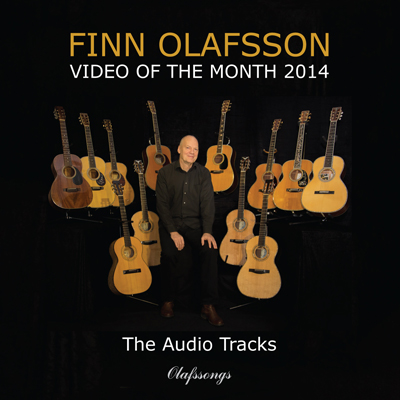 ---
Olafssongs
OCD 063 • 2015

Audio CD included
in the DVD set!

Click in the picture
to read about the album
• Order double DVD+CD set - pay online in DKK
at: www.shop.olafssongs.dk
• Customers in Germany -
please order at:
www.acoustic-music.de
• Back to the Main Menu
The Videos - the Titles

#1 - Dark Patterns

#2 - For Maria

#3 - Our House

#4 - Playful Springtime

#5 - A Scent of Lavender

#6 - Gina

#7 - At the Country Fair

#8 - The Compromise

#9 - Tango in Heaven

#10 - Hamlet's Castle

#11 - Healing Heart

#12 - Wafu Dedication 2


INTRODUCTION
Whether you want to watch Danish composer and guitarist Finn Olafsson playing 12 of his splendid acoustic guitar compositions live in the studio
- or you would like to challenge yourself with playing them
- or you would like to see, hear and compare a bunch of gorgeous, rare high end C.F. Martin, Kehlet and David W. Musselwhite guitars
- or you would like to study and explore 5 different alternative tunings + standard tuning
- or you would just like to listen to the included audio CD with these outstanding live recordings
This new double DVD+CD set is the answer!


New Finn Olafsson double DVD+CD set:
"Video of the Month 2014"
In collaboration between Acoustic Music Records, Germany, and Olafssongs, Denmark, Danish composer and acoustic guitarist Finn Olafsson presented an outstanding new double DVD+CD set at Musikmesse 2015, Frankfurt, in Germany.

The DVD/CD set primarily contains 12 'live in the studio' acoustic guitar videos written and performed by Finn Olafsson, in two of the videos being accompanied by Torsten Olafsson on tablas. The videos were launched month by month in 2014 on YouTube.

In 7 of the 12 videos Finn Olafsson plays new guitar pieces that have not yet been published on any of his albums, while 5 pieces are known from his previous albums. 6 different guitar tunings are represented - and many acoustic guitar fans will find it quite exciting that Finn Olafsson in the videos is playing various gorgeous C.F. Martin, Kehlet and David W. Musselwhite guitars.





On DVD 1 you'll find the 12 videos in the "entertainment" versions which were published during 2014 on YouTube. DVD 1 also includes a 26 minutes portrait interview in two versions, one in Danish and another with English subtitles. In the portrait interview, Finn Olafsson tells about composing music, the inspiration, his life with music, the guitars he plays, how he kept spirits up after the death of his daughter Maria in August 2013 - and much more - mixed with clips of his music from the videos.

On DVD 2 you'll find all the same acoustic guitar music pieces in "tutorial" versions. On this DVD Finn Olafsson's right and left hands are shown simultaneously in close-up - to make it much easier to see how to play the guitar pieces yourself.

On the included CD album, "The Audio Tracks", you'll find the very same 'live in the studio' audio tracks of all the 12 guitar pieces in 16-bit CD quality.

The Videos:
1 - Dark Patterns (January) -
2 For Maria (February) -
3 Our House (March) -
4 Playful Springtime (April) -
5 A Scent of Lavender (May) -
6 Gina (June) -
7 At the Country Fair (July) -
8 The Compromise (August) -
9 Tango in Heaven (September) -
10 Hamlet's Castle (October) -
11 Healing Heart (November) -
12 Wafu Dedication Part 2 (December)

The Guitars:
C.F. Martin Custom 00-12 fret Koa/Koa (00-25) -
C.F. Martin Custom Hide Glue 000-45 12 fret Madagascar/Italian spruce -
Kehlet Grand Folk Finn Olafsson Signature Brazilian/Sitka (in 3 videos) -
C.F. Martin OM-45 GE 1933 Golden Era Brazilian/Adirondack -
Kehlet Folk Vintage Quilted Birdseye Maple/German spruce -
C.F. Martin D-45 Deluxe CFMB CFM Sr 200th Anniversary Brazilian/Spruce -
1979 C.F. Martin D-45 Indian/Spruce -
C.F. Martin OM-45 (000-14 fret) Custom 1833 Restricted Madagascar/Adirondack -
David W. Musselwhite OM-45 Deluxe Brazilian/Spruce -
C.F. Martin 00-42K Robbie Robertson Koa/Italian spruce.

The Tunings: E-A-D-F#-B-E (3) - C-G-C-G-B-D (1) -
D-A-D-G-A-D (4) - D-A-D-G-A-E (1) - D-G-D-G-B-D (1) -
Normal E-A-D-G-B-E (2)

Essays: For every video there is an individual, dedicated webpage on Finn Olafsson's website where you can read in much detail about the background for each of the guitar pieces, the story about each of the guitars he is playing in the videos, the different guitar tunings used and some 'how to play it' advice. The essays are extensively illustrated with photos.

Where to buy:

Germany: The webshop of Acoustic Music Records, www.acoustic-music.de (Price: EUR 19,80)

Denmark: The webshop of Olafssongs, www.shop.olafssongs.dk (Price: DKK 199,00)

In April 2016, the double DVD+CD release was followed up by sheet music/TABs of all 12 guitar music pieces that correspond precisely to the video versions.
Reviews:
Review in the German guitar magazine Akustik Gitarre 5/15, August/September 2015:






Click here to read the review as PDF file




Credits:

Finn Olafsson: Acoustic guitar
Torsten Olafsson: Tablas

Music composed by Finn Olafsson
Copyright © by Olafssongs Music Publishers, Denmark
The 12 videos of
Video of the Month 2014:
Location: Olafssongs Studio, Denmark
Video production, photo & editing: Kim Ingemann Erichsen
Produced by Peak Production - www.peak.dk
Audio tracks recorded
by Ronnie Bille
Mixed at Folting Studio
by Tobias Folting & Finn Olafsson
Engineered by Tobias Folting
The portrait interview:
The Guitarist Finn Olafsson
Organization, production, photo & editing: Kim Ingemann Erichsen
Organization, script and sound: Ronnie Bille
Speak: Anette Faarborg
Still photos by Kim Ingemann Erichsen, Hans Ole Madsen, Mikkel Scharff, Nina Lemvigh-Müller & Torsten Olafsson
English subtitles: Helle Schou Kristiansen, Dansk Video Tekst
Produced by Peak Production - www.peak.dk

DVD cover layout
by Torsten Olafsson
Proof reading on website
and DVD cover:
Bente Guldborg Nielsen,
Helle Kongevang & Torsten Olafsson

Front & back cover photos
by Kim Ingemann Erichsen

This project was financially supported by DMFF through KODA's Cultural Contributions.