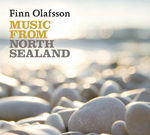 ---
Olafssongs OCD 057 • 2011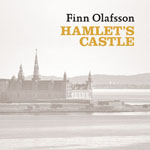 ---
"Hamlet's Castle"
Olafssongs OPRCD 005 - 2012

Click in the CD cover to hear
sound clips from the single
• Order the CD online at:
www.shop.olafssongs.dk
• Customers in Germany -
please order at:
www.acoustic-music.de
• Download at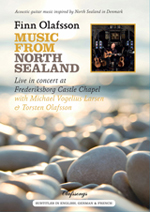 ---
FINN OLAFSSON
"Music From North Sealand.
Live in Concert at Frederiksborg Castle Chapel with Michael Vogelius Larsen & Torsten Olafsson"
Olafssongs ODVD 002 - 2013

Click in the DVD cover to read
about the DVD
• Back to the CD Gallery
Click on a title to hear a short sound clip
of the track ...
#1 - Under Sail on Esrum Lake / Under sejl på Esrum Sø
#2 - Playing on Tisvildeleje Beach /
Leg på Tisvildeleje Strand
#3 - Steaming through Gribskov Forest /
Røg og damp gennem Gribskov
#4 - The Good Ship 'Nakkehage' of Hundested /
'Nakkehage' af Hundested
#5 - Kites at Heatherhill / Drager på Heatherhill
#6 - At The Country Fair / På kræmmermarked
#7 - King Valdemar's Castle / Kong Valdemars Slot
#8 - The Monks of Esrum / Munkene i Esrum
#9 - The Ball in The Great Hall / Til bal i riddersalen
#10 - In The Monastery Garden / I klosterhaven
#11 - Sculptures in The Castle Grounds /
Skulpturer i slotshaven
#12 - The Castle by Øresund / Slottet ved Øresund
#13 - A Summer's Day at Arresø Lake /
Sommerdag ved Arresø
The album
MUSIC FROM NORTH SEALAND


• Listen to a medley with sound clips
from "Music From North Sealand".
This link will open the mp3-player
installed on your system
• Read about "Music From North Sealand" (in English)
• Læs om "Music From North Sealand" (in Danish)
• Lesen Sie bitte über "Music From North Sealand"
(in German)
• Pour en savoir plus sur
"Music From North Sealand" (in French)
Quotations from reviews

Akustik Gitarre (Germany)
'Olafssons Markenzeichen ist ein unglaublich schöner, kultivierter Ton auf ausgesucht edlen Nobelgitarren.'
- - -
'Selten war der Begriff Klangmaler zutreffender'

Folkworld (Germany)
'This is pleasant atmospheric acoustic music, closest to some of John Renbourn's most easy going albums.
Pierre Bensusan comes to mind, although the guitar work here is not always as dazzling as what you hear from those two. But a song like "The Monks of Esrum" showcases Olafsson's skill and more importantly his feeling for an exotic melody. Now this is what takes me back to something like John Renbourn's "The Black Balloon". Olafsson works out of Denmark, but his music is not geographically bound and balances the ancient and modern styles as well.'

Le Canard Folk (Belgium)
'La guitariste danois virtuose (un modèle de guitare acoustique porte son nom) vit dans le North Sealand, en plaine nature, dans une région parsemée de ruines, de châteaux et de monastères.'
- - -
'Calmement rêveuse au départ, puis s'essayant à l'écoute de la vie médiévale et un bal dans un château au temps du roi Christian IV. Avec quelques douces percussions et de temps à autre un peu de claviers, voilà de quoi donner l'envie de visiter sa région.'

Blackmoon Magazine (Norway)
'Han skaber vakre, maleriske melodier med sit eminente akustiske gitarspill. Finn har sansen for Ritchie Blackmore og det minner meg faktisk om Blackmore's Night, dette albumet. Hvis du vil ha fred i sinnet gjennom å lytte til strålende utført musikk, instrumentalt og gitarbasert, så er dette en glimrende løsning. 7 måner.'

Nordische-Musik (Germany)
'Denn der Gitarrist und Produzent lässt auf zurückgenommene Art ein filigranes Stimmungsbild entstehen, das gleichermaßen von virtuoser Beherrschung des Instruments und raffinierter Einfachheit geprägt ist.'

PROFIL – La Radio-progressive à Québec
'Il y aurait beaucoup à dire sur ce «Music from North Sealand» mais je tiens à souligner la suite de trois pièces «In the Monastery Garden / Sculptures in The Castle Grounds / The Castle by Øresund» qui est selon moi le moment à ne pas manquer. La finale «A Summer's Day at Arresø Lake» est magique, en fait c'est un endroit qui est un paradis pour ceux qui désire observer plusieurs spécimens d'oiseaux. Comme le dit si bien Finn OLAFSSON, vous fermer votre téléphone et vous écouter les oiseaux et le son du lac.'

Guitarsonic.de (Germany)
'Hamlet's Castle: 'Gerade bei diesem majestätischen Thema überzeugt Olafssons kultivierter Ton äußerst geschmackvoll im Arrangement mit Overdubs. Unisono mit dezenter Stratocaster, unterlegt mit Bass und zusätzlicher Perkussion instrumentiert ist die Szene wunderbar plastisch herausgearbeitet.'

RootsZone - www.rootszone.dk (Denmark)
'De harmoniske melodier oplever jeg som små oaser fulde af ro, idyl og tid til flyde med ind i numrene og tænke på egne stjernestunder i naturens smukke kulisser. Eller kulisser, det er det jo netop ikke, i al fald ikke kunstigt opstillede til lejligheden - nej, de er den vaskeægte ramme om Finn Olafssons liv og levned, som vi får lov at deltage i her. "Music From North Sealand" er en hyldest til de steder og stemninger, som har inspireret ham og betydet en masse for ham.'

Capac - www.capac.dk (Denmark)
'Der er noget emotionelt bevægende, i ordets egentlige forstand hjertegribende, over disse stykker musik. Noget elementært romantisk, der uden tvivl grunder sig i komponistens erklærede kærlighed til Nordsjælland.'
- - -
'Som jeg indledningsvis antydede, så er det et concept-album, og som sådan fortjener det at bliver lyttet til. I sin helhed. De fire medvirkende musicerer, så det er en fryd. Hermed anbefalet.'

Gaffa (Denmark)
'Driftsikker, kompetent komponist og guitarist hylder Nordsjælland på akustisk plade.'

Guitaren.dk (Denmark)
'Jeg sidder efterladt med en følelse af at være vidne til en masse god fingerspils musik, og også med gode og iørefaldende temaer på de fleste numre.
Cd'en er bestemt ikke kedelig eller forudsigelig, den er derimod inspirerende, og indeholder rigtig gode fingerspils numre der vil inspirere ikke alene danske fingerstyle interesserede men også nå langt ud over landets grænser. Det skulle ikke undre mig om den blev indstillet til en pris af en eller anden art.
Befriende nye toner fra en stor mester på den danske musikscene over flere årtier man lugter nyt blod. Finn Olafsson er tilbage!'

Folkebladet Midthimmerlands Folkeblad (Denmark)
'Ingen guitarister i kongeriget Danmark kan som Finn Olafsson skabe musikalske stemninger.'
- - -
'Det er smukt som bare pokker og udført med akkuratesse i selskab med knalddygtige Torsten Olafsson på bas, Michael Vogelius Larsen på keyboards, Jacob Andersen på percussion og Søren Hammerlund på strengeinstrumentet hurdy gurdy' - 'Aldeles anbefalelsesværdig!'


DVD reviews:

• "Splint" in Folkebladet, Denmark (in Danish)

• Folkworld.de #54, Germany (in German)

• Akustik Gitarre, Germany (in German)

• PROFIL - La radio-progressive à Québec (in French)

• Blackmoon, Norway (in Norwegian)


Le Canard Folk review, Belgium: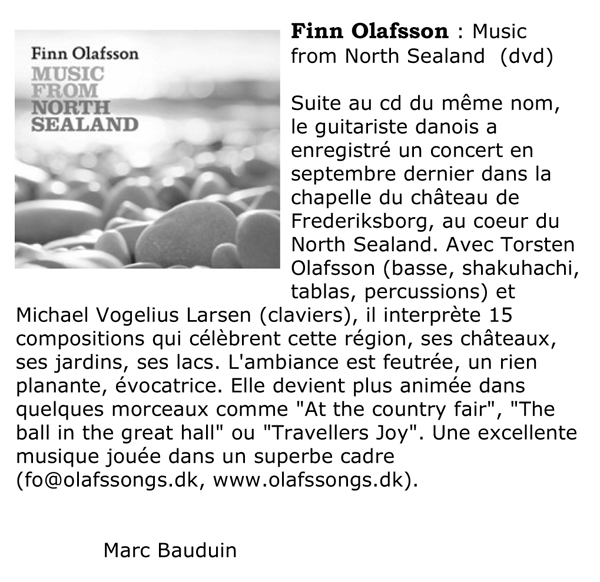 CD album and single reviews:
• PROFIL - La radio-progressive à Québec (in French)
• Blackmoon, Norway (in Norwegian)
• Nordische-Musik.de, Germany (in German)
• GuitarSonic.de, Germany (in German)
• Midthimmerlands Folkeblad, Denmark (in Danish)
• CAPAC, Denmark (in Danish)
• Akustik Gitarre, Germany (in German, Danish & English)
• FolkWorld #47/folkworld.eu, Germany (in English)
• Le Canard Folk, la Belgique (in French)
• Guitaren.dk, Denmark (in Danish)
• Rootszone.dk, Denmark (in Danish)
• Gaffa.dk, Denmark (in Danish)
• Order the CD online at:
www.shop.olafssongs.dk
• Download at


• To the top
• Back to the CD Gallery
Finn Olafsson:
Acoustic & electric guitars, voices (#1)
Torsten Olafsson:
Bass, shakuhachi flute, tablas, bass drum (#2, #5, #6)
Michael Vogelius Larsen:
Keyboards & accordeon
Jacob Andersen:
Percussion
Søren Hammerlund:
Hurdy gurdy

Music composed by Finn Olafsson
Published by
Olafssongs Music Publishers

'Music From North Sealand' was recorded on analogue tape, engineered mixed & produced by Finn Olafsson at Olafssongs Studios, Græsted, Denmark, July – November 2011
Digitally mastered by
Henrik Ammitsbøl at Olafssongs Studios
Front cover photo:
iStockphoto/Michal Krakowiak
Back cover photo of Finn Olafsson: Hans Ole Madsen
Layout: Sebastian Sejer & Co A/S
Translation: Lars Kjædegaard
Executive producer: Tommy Seier

Thanks to Tommy Seier, Dorte Kiilerich and the staff at VisitNordsjælland for their great co-operation in the creation of this album and for supporting the project.

On this album Finn Olafsson plays acoustic Kehlet Guitars (DK),
C.F. Martin Guitars (US),
David W. Musselwhite (US)
& the North Sealandic electric Schaumburg Protocasters (DK).

Visit Olafssongs at www.olafssongs.dk & VisitNordsjælland at www.visitnordsjaelland.com for further information.

This project was supported financially by DMFF through KODA's Funds for cultural and social purposes.